Main Content
Population
11,916
Med. Household Income
$89,063
Med. Home Value
$1,600,000
This large neighbourhood south of Danforth to Lakeshore, bounded by the Don Valley to the west and Jones Avenue to the east, covers a wide range of housing types, cultural milieus and street vibes. The main landmark is the 100-acre Riverdale Park, which boasts the best views anywhere in the city and connects to Riverdale Farm and the Don Valley trails
Culture & Lifestyle
Real estate here reflects the neighbourhood`s variety of demographics and life stages, from affluent North Riverdale`s renovated Victorian and Edwardian semis to brand-new condos at Broadview and Queen, in the mixed-income, up-and-coming area of Riverside (anchored by the hip new Broadview Hotel). Chinatown East centers around the intersection of Broadview and Gerrard, while Greektown extends eastward along Danforth.
Schools & Rankings
Families can expect to pay a premium for a home in the catchment areas of Pape Avenue Junior Public School, Withrow Avenue Junior Public School, and Frankland Community School, which consistently get top marks from the Fraser Institute. There are also two Catholic schools, Holy Name and Bon-Berger, as well as the private Montcrest School and several small alternative schools.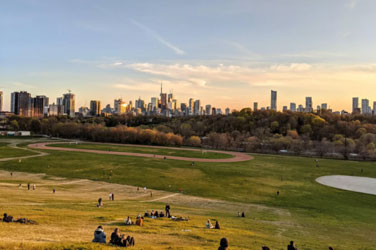 Market Trends
Semi-detached houses dominate the inventory here, with the average selling price in the fourth quarter of 2020 at $1.7 million, up a whopping 2 percent from the same period a year before. Properties stay on the market a mere eight days.
Riverdale/Riverside Favourites
According to
The Richards Group Team