Main Content
Population
5,016
Med. Household Income
$76,476
Med. Home Value
$945,000
Directly north of the Beaches, this quiet community lies above Kingston Road up to the train tracks that run between Gerrard and Danforth, and from Coxwell Avenue east to Victoria Park. A more affordable, low-key alternative to its southern neighbor, this 'hood is just a 20 minute walk from the shore, but there's plenty to explore in its own little collection of parks, boutiques and restaurants.
Culture & Lifestyle
Latte-toting parents push strollers along Kingston Road, where there are plenty of family-friendly cafes, shops and restaurants, including some of the best Jamaican grub in the city. Little India is just a short walk west along Gerrard, while the Danforth lies just to the north. You're always within spitting distance of a playground or park, including the lovely and secluded Williamson Park Ravine, designated as an environmentally significant habitat for native flora and fauna.
Schools & Rankings
The abundance of schools here make the Upper Beaches in-demand with young families. There are five public elementary and middle schools (Norway Junior PS, Kimberly Junior PS, Adam Beck Junior PS, and St. John Catholic School) plus two high schools, Malvern and Notre Dame. Malvern Collegiate, whose famous alumni include Glenn Gould and Norman Jewison, is renowned for its English and Drama program and ranks in the top 10 percent of secondary schools provincewide.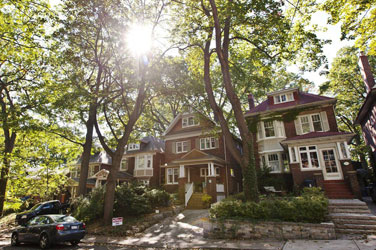 Market Trends
With an average price of just under $1 million, home sales in the Upper Beaches show no signs of slowing down, shooting up 14 percent from the fourth quarter of 2019 to the same period in 2020, and properties staying on the market less than two weeks on average. While detached and semi-detached houses dominate inventory, there are also a few more affordable condos available in the $600,000 range.
Upper Beach Favourites
According to
The Richards Group Team