Main Content
Population
18,119
Med. Household Income
$78,882
Med. Home Value
$1,050,000
At the corner of Queen East and Jones, a distinctive two-storey painted mural announces where you are: Leslieville, a village-within-a-city named for tree nursery owner and urban eco-visionary George Leslie. From Empire Avenue going east to Coxwell, and from Eastern Avenue north to Gerrard, this neighbourhood's Victorian character has changed dramatically from its industrial past to the present, but locals remain staunchly proud of their roots.
Culture & Lifestyle
Part of the larger South Riverdale area, Leslieville was at the forefront of a wave of gentrification in the east end starting in the mid-2000s, and it's now a highly coveted 'hood for creative professionals and young families. Several large film studios keep Hollywood North booming, and restaurants and boutiques along Queen Street East are buzzing with the brunch crowd on weekends. At the waterfront, Tommy Thompson Park offers stunning views and wildlife aplenty along the Leslie Spit, which extends 5 km into Lake Ontario.
Schools & Rankings
Leslieville has four public elementary and middle schools (Morse Street Junior Public School, Bruce Public School, Leslieville Junior Public School, and St. Joseph Catholic School) and one high school, Riverdale Collegiate Institute, which scores in the top 15 percent provincially.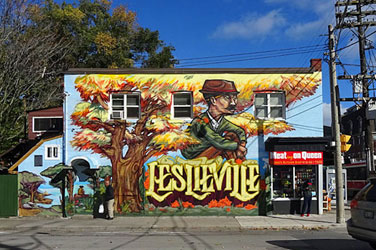 Market Trends
Detached and semi-detached houses sell for an average price around $1.3 million, and it's not unusual for these properties to change hands for $100,000 over asking. There has been a large influx of new condo apartments averaging around $700,000. All property types stay on the market an average of 11 days.
Leslieville Favourites
According to
The Richards Group Team