Main Content
Population
21,381
Med. Household Income
$69,026
Med. Home Value
$1,185,000
From around Pape on the western end through Greektown and ending around Dawes Road, Danforth Avenue (known locally as "The Danforth") is home to a lively, close-knit community of restaurants, cafes and shops where young families mingle with retirees and creative professionals. The subway line runs straight along this main drag, taking you to the downtown core in less than 30 minutes.
Culture & Lifestyle
Even if it's no longer the largest Greek community in North America, the Danforth retains its Cyrillic street signs and popular souvlaki restaurants. On warm days you can sit by the fountain at Alexander the Great Parkette and enjoy some authentic loukoumades. Parks, playgrounds and street fairs abound, with the Taste of the Danforth food festival drawing huge crowds before the pandemic. The eastern end at Danforth Village, also known as East Danforth, is home to a sizable Muslim community and one of the largest mosques in the city.
Schools & Rankings
This area includes three elementary and middle schools (Wilkinson Junior Public School, Earl Beatty Junior and Senior Public School, St. Brigid Catholic School) and one high school, Danforth Collegiate and Technical Institute, which specializes in math, science and technology. Wilkinson is the strongest academically, scoring in the top 11 percent in the province.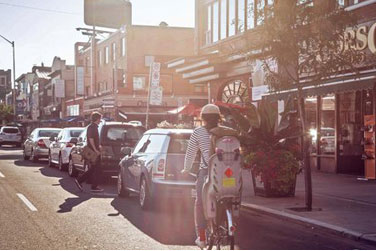 Market Trends
Buyers come here for detached and semi-detached houses, with average prices approaching $1.3 million at the end of 2020 (up 10 percent from one year prior). Properties stay on the market an average of 12 days and end up selling an average of 10 percent over asking.
Danforth Favourites
According to
The Richards Group Team