Main Content
Med. Household Income
$67,142
Med. Home Value
$647,500
As demand for houses continues to skyrocket, condos have become an appealing alternative for young families. In Corktown and the Distillery District, two historic and walkable neighbourhoods just east of downtown, many new developments include two- and three-bedroom units plus kid-friendly amenities. The area spans Parliament Street to the Don River, and from Queen Street East south to the railway tracks.
Culture & Lifestyle
One of Toronto's oldest neighbourhoods, Corktown was an Irish working-class settlement that was largely demolished in the 1960s to make way for highway expansion. Efforts to revitalize led to the ongoing construction of the West Don Lands, including the thoughtfully designed Corktown Commons Park. New health food restaurants, coffee shops and fitness studios are filling up surrounding storefront spaces. A short walk south below Front, the old Gooderham & Worts Distillery is now a cobblestone-paved mini-city of art galleries, bars, restaurants and boutiques.
Schools & Rankings
Four public elementary schools serve this mixed-income, up-and-coming area: Nelson Mandela Park Public School, Market Lane Junior and Senior Public School, St. Paul's Catholic School, and Downtown Alternative School, the latter ranking in Ontario's top 5 percent. Inglenook Community School, a tiny alternative high school for Grade 11 and 12 only, is also highly regarded.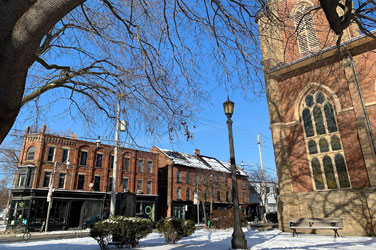 Market Trends
The average condo apartment sold for $738,000 in the fourth quarter of 2020, down 7 percent from a year prior after a flood of new listings doubled the number of available units. Properties sat on the market an average of 24 days.
Corktown/Distillery Favourites
According to
The Richards Group Team!