Main Content
Surprising advantages: Buying when rates are high

The real estate market is constantly evolving and one of the key factors that affect homebuyers is interest rates. In a high-interest rate market, many potential buyers may be hesitant to make a move. However, there are some surprising advantages to buying a home in this market. Find out why purchasing a home when interest rates are high may actually be the smart move.
Less competition
For years home buyers have been elbowing their way into highly competitive multiple offers. With many buyers reconsidering their strategy in this shifting market, there is a unique opportunity in the short term to be ahead of the crowd if you have your financing approval in hand. Real estate is notoriously susceptible to 'herd mentality' – right when there could be amazing opportunities in the market, buyers tend to fall into the 'wait and see' phase…if you're in a good position to buy, you can break free and make a smart move while everyone else is on the sidelines.
More supply
Housing supply has been making headlines for a reason. We finally have a pause in the market where there is more inventory as a result of higher rates – some sellers are still adjusting to the current conditions and others are selling out of a more pressing need. Buyers are in a unique position to have more choice now and in the coming months
Lower prices
Looking at the Sales to Listings Ratio chart, prices are poised to come down in the coming month. The Sales-to-New-Listings ratio is down but the average annual percent price change hasn't come down yet…history tells us that this is going to happen next so buyers should be ready to make their move.
Negotiating power
Given all these conditions, buyers have more negotiating power than they've had for years. It's not just about price, but now is the time to negotiate on that perfect close date, inclusions that you want to keep in the home and much more.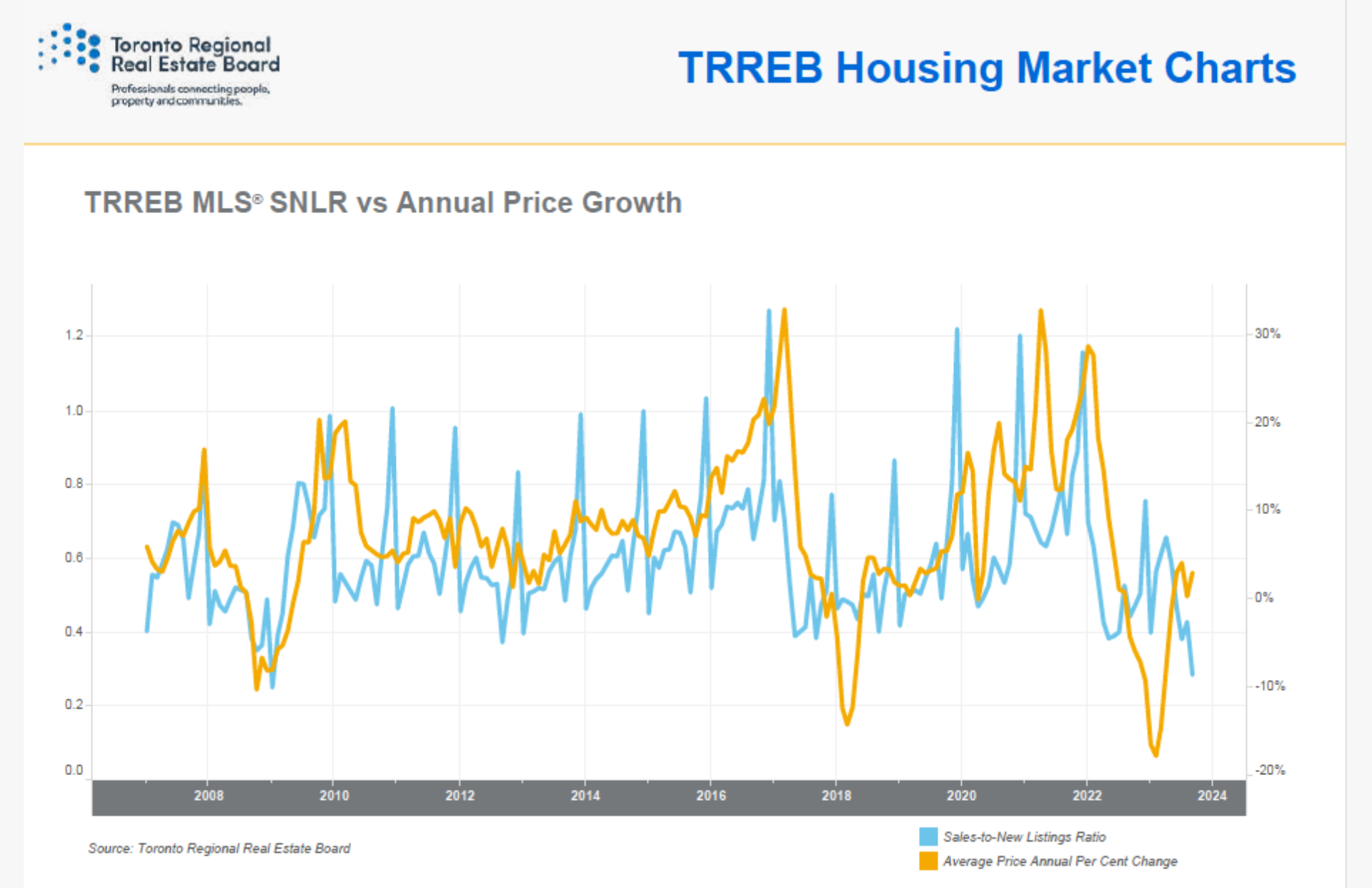 Sales to Listings Ratio Explained
This chart plots the monthly sales-to-New Listings ratio (blue line) with year-over-year average annual percent price change (yellow line). When the sales-to-new listings ratio moves higher, average annual percent price change in home prices generally trends higher. When the sales-to-new listings ratio moves lower, average annual percent price change in
home prices generally trends lower. Source: TRREB
Moving forward
There are a lot of headlines out there that say the bubble is bursting and prices are going to crash. While this may ring true for some parts of the country and prices are more sensitive outside the core GTA, we still live by the law of supply and demand. We are seeing a correction as sellers are adjusting expectations and buyers are waiting and seeing. While we don't have a crystal ball, we have been here before. Even after the dramatic crash in 2008, the market bounced back remarkably fast in Toronto. Don't hold out for miraculously low housing prices and cost yourself an opportunity that is out there right now.