Main Content

There are great opportunities in the current market. How can you take advantage of them while protecting your financial future?
In today's ever-evolving real estate market, the art of buying a home goes beyond finding 'the one' and hoping you win a multiple-offer. It's about making sound decisions that align with your long-term financial goals, doing your homework and taking advantage of the market dynamics through knowledge and preparedness. Check out our insider advice on how to play it safe and buy smart in this market…
Know where you stand
When money was cheap, banks were approving generous mortgages – clients would often be shocked by what they were offering. But now that the landscape has changed, it is really important to understand what carrying costs look like for you – while being more conservative to account for rising costs of living and ensuring you can save for a rainy and not be over-leveraged.
Really explore your options
Many people assume their own bank is going to give them the best possible rate but unfortunately, this is often not the case.
Make sure you fully explore your mortgage options. In addition to talking to your bank, check in with a reputable mortgage broker who will shop your mortgage across multiple sources and help you navigate the fine print to understand what is truly the best option for you.
If you are selling a home to make the transition to a new one, find out if you have the approval to port your mortgage (if it's favorable) to your next home – don't assume this is the case. Reach out to our preferred broker, Angie Alvarez of Capital Home Lending: [email protected].
Everything is relative
From a financial perspective, buying and selling a home within the same market often carries a relatively low impact due to comparable market conditions, reducing the risk of significant gains or losses.
Typically, the appreciation or depreciation of the property you are selling will be mirrored in the one you are buying. In many cases, the financial outcome is more predictable, which can provide homeowners with a sense of stability and confidence in their real estate transactions.
Focus on the long term
It's understandable that everyone is hyper-focused on the short-term conditions with higher interest rates and inflation, especially those who are impacted by a variable mortgage.
But keep in mind, mortgage rates will vary. The price you paid for your home never will. If we look at the historical average sale price over time, the long term performance and cost of a home trend upwards. So long as you buy within your means with a reserve for potential increases in interest rates, you may be better off purchasing now compared to a few years later.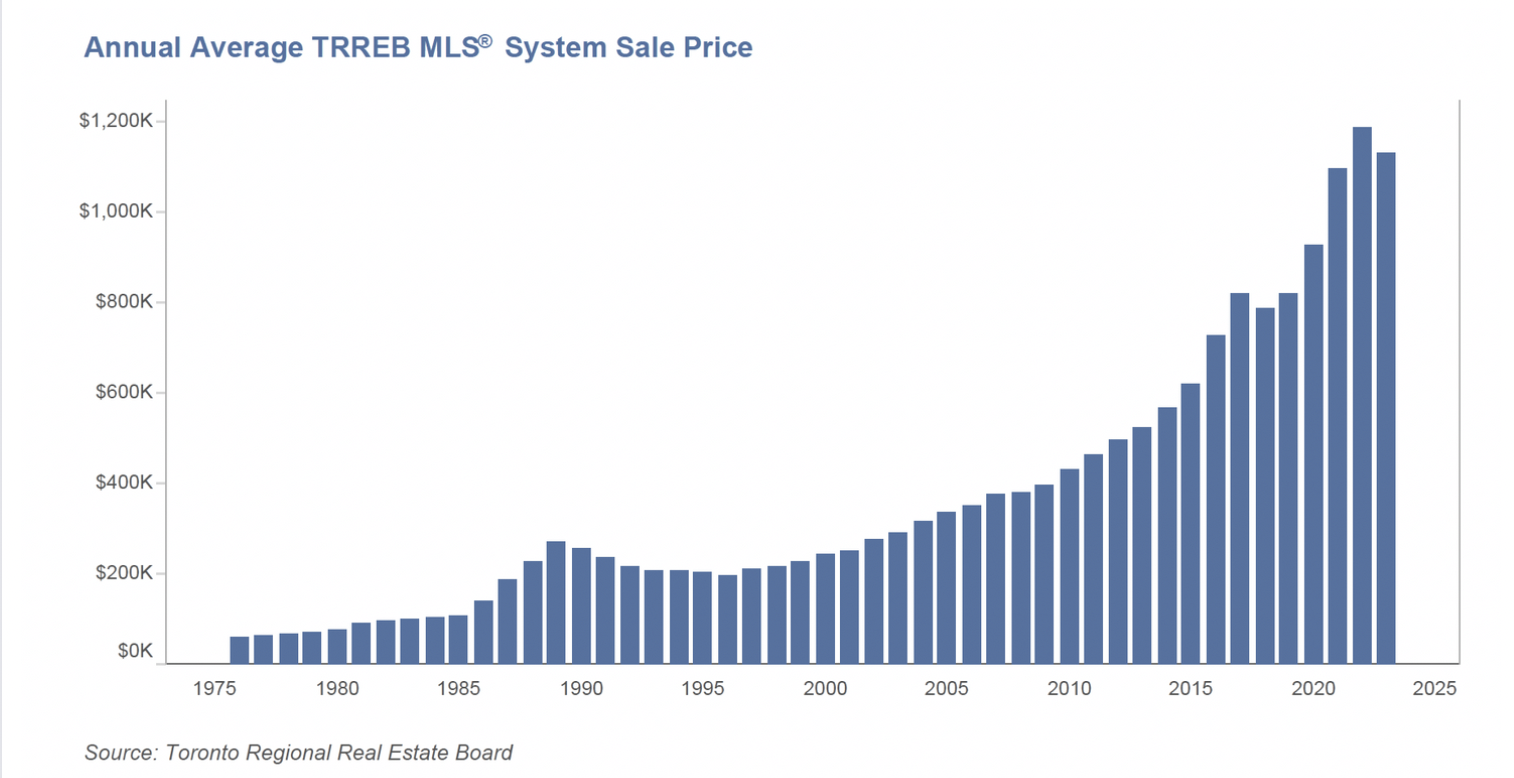 Knowledge is power
It is always important to work with a professional who knows the local market inside and out but now it's more important than ever. The ability to price a home is far more challenging and sellers are still attempting to capture prices from a past market. You can't just base your offer on what has sold on Realtor.ca. You need insight about properties sold off-market to truly understand where values are at.
Negotiation is key
Buyers certainly have more power and leverage in today's market with greater inventory and more highly motivated sellers. How you navigate that through expert negotiation to ensure the best possible outcome is critical.
Have any questions? Reach out to [email protected]!