Main Content

We know how it goes…you purge, organize and tidy but days later, the mess is back. Check out our design and styling team's fave low-cost hacks to stay organized once and for all.
TREAT STUFF LIKE CUTLERY
Why should your forks get all the attention? Treat everything like that and enjoy these awesome drawer organizers.
$$8.99-$14.99
CONTAINER STORE
Rowan Acacia Stacking Drawer Organizer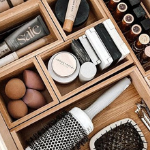 STACK, DON'T THROW
Remove the nightmare of a drawer full of water bottles and convert a wine rack or pick up a vertical bottle organizer.
$24
AMAZON.CA
Water Bottle Organizer Rack, Stackable Plastic Water Bottle Holder

HANG IT UP BEAUTIFULLY
When the foyer won't allow for a proper coat rack or the closet is full, hang this beauty and snag decorative wall baskets.
$45
CB2
Barker vertical wall mounted coat rack.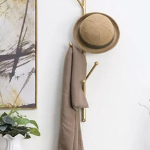 CLEARLY STACKED
Make the most of the vertical space with these handy see-through containers.
$30
AMAZON.CA
2 Pack Stackable Clear Drawer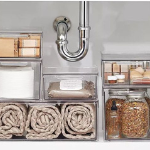 OVER THE DOOR
Capture extra space for the hard to store but always needed items. Our fave is the wrapping paper rack.
CONTAINTER STORE
$150
White Elfa Utility Gift Wrap Rack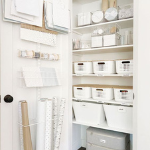 THE KONDO WAY
Folding is all well and good but if you can't keep it separated it just becomes a messy pile again! Make it stick with divided containers.
SHEIN
$8.80
Multi-grid Underwear Storage Box, Multifunction Bra Storage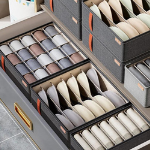 MODULAR MUDROOM
Custom built-ins are an investment but a quick win is this modular system to target the pain points in a side entrance or foyer.
POTTERY BARN
$35-$183
Gabrielle Organization System

DISPLAY THE GOOD STUFF
Why can't fashion be art? Find a home for your beautiful friends AND create an artful display.
IKEA
$40
Lack Wall Shelf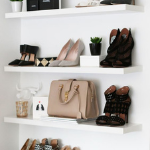 STORE FOR THE SEASON
Stop scooping through out-of-season clothes when you're tying to find your fave top. Opt for shallow storage you can slide under the bed for off season items.
SHEIN
$8.70
Large Capacity Clothes Storage Bag, Clothes Storage Bin

DOUBLE IT UP
Make use of the unused air space on your shelves with these sleek organizers.
WAYFAIR
$204
Stackable Wide Counter Shelf Countertop Organizer Cabinet Shelves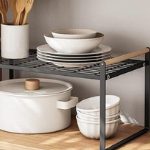 KEEP SHEETS SETS IN PILLOWCASES
Minds were blown when we figured this little gem out. No more mismatches. Step up your game and use a washable label to note the sheet size or room!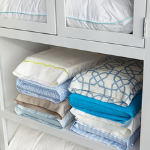 DONATION BOX
Don't let things linger in the closet until you're ready for a donation purge. Keep a basket or even hang a reusable bag in the front closet.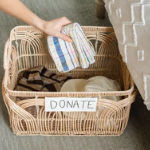 We hope all these tips help you tackle the clutter, follow us on instagram @richardsgroupremax for more great tips!